Señor Ernesto Delgado ~ His Life as Art
---
Three Different Restaurants, One Vision
"The spirit of Mayahuel is inspired by a calling to unfold a profound recognition for the stunning beauty of Mexican culture and traditions. To fully realize the impact of our culture you must assimilate the legends, myths, and stories that weave their thread throughout our lives – past and present." ~ Señor Ernesto Delgado
When one has a calling – a passion – to share something important with the world, it's not an option to ignore that calling.
So it is with Señor Delgado. A love of his culture and a background as a Designer has allowed him to use each of his restaurants as a three-dimensional canvas – one which embraces history, art, food and music. His calling is to create  – in a unique form of beauty.
Mayahuel was designed in part to pay homage to the great architect Luis Barragan (1902-1988), who believed that architecture should not only house art, it should be art. He saw beauty in balance and proportion, the play of light and shadow, and the interaction between horizontal and vertical planes.
The architectural design of Mayahuel creates the perfect backdrop to hand-painted murals, which speak of myth and legend, history and ancient superstition, and a way of life that centered around the Agave. The simple lines of the interior and the soft, pleasing colors allow the art to become the focus. Every detail in Mayahuel has been carefully thought out from a design perspective– the murals – most by acclaimed muralist Dos Hermanos, rare boxes that carried the José Cuervo Reserva de la Familia bottles and now grace the Tequila bar, one of a kind sculptures and even the presentation of the food. Mayahuel is an immersive experience from the moment you walk in the door.
Mayahuel is a deeply romantic space, a love letter to the passion, grace and beauty of a culture.
For more on architect Luis Barragan, read our article here.
La Cosecha by Mayahuel, scheduled to open this spring, was inspired in part by Oxbow in Napa. (read our article here) An open-air covered bustling marketplace, Oxbow houses an amazing and eclectic array of shops, small eateries, and a feeling of community. A small Mexican restaurant makes some of the best breakfast tacos you'll find anywhere. Nearby, one can purchase unique cookbooks, exotic spices in bulk, and artisanal cheeses.
As construction is well underway, it's clear that La Cosecha will not only help define community for Downtown Sacramento much as Oxbow does for Napa, but will provide an oasis of fresh food, warm friendly atmosphere and serene surroundings of the Cesar Chavez Plaza greenbelt to those needing a rejuvenating escape from their office. It will provide an experience of heady aromas, fresh, colorful food, and the bustling activity you see in the plazas of Guadalajara. With an easy-to-access design for hungry and busy people, it will come alive during the Concerts in the Park and Farmer's Market. The perfect location for Tequila & Mezcal events, local farm-to-fork food celebrations, and the best of Mexican food tastings, La Cosecha will be a joyful combination of indoor/outdoor culinary enjoyment.
La Cosecha will be a place of inclusion and friendship, a representation of all that is great about Sacramento – an acknowledgement of the contribution of the Mexican people to the history of our city, as well as a 'melting pot' of all cultures, races, ages and backgrounds coming together in happy symbiosis.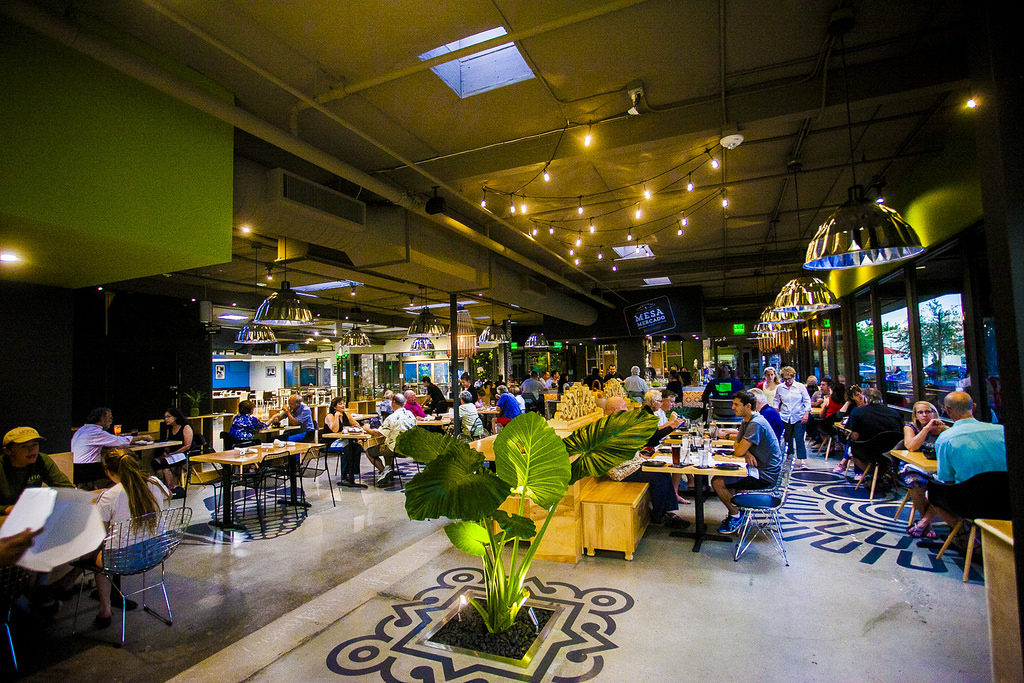 Mesa Mercado, which opened in 2016 in the lovely Milagro Centre of Carmichael, is equally beautiful but very different from Mayahuel. The design is more 'Urban Upscale' and family friendly. Gorgeous original black and white murals (again by the revered artist Dos Hermano, read our article about his life and vision here) evoke deep emotion and dance with wild abandon among colorful chair cushions. Handmade pottery and wooden Molinillos (used to froth Mexican hot chocolate) grace the shelves and are offered for sale. When Señor Delgado opens the adjacent market, called Hunt and Gather, it will provide a place to find high-quality, rare and unique items from México. Just behind the restaurant is a Taco Bar, opening soon. It will provide exquisite small bites and hand-held foods to eat while you shop.
Just as Mayahuel is deeply romantic, Mesa Mercado is a space that is full of light and love, of fun and family. It's like a vacation to México spent in a whirlwind of food, laughter, dance and sunshine.
There is, of course, a passion in each of Ernesto Delgado's designs. It's clear from the symbolism in the art, the great care with which he chooses every element, that no item is too small to overlook. A love of culture, of myth, of artistic expression. But underlying all is a sense of joy and playfulness. A happiness with being alive – to experience the burst of flavor in a fresh Mango, the scent of a ripe Avocado just opened, the steam from a pot of exquisite Pozole. To acknowledge the Ancients, and look toward the future. To bring Sacramento together as both a Capitol city and a place of shared vision.
What is also crystal clear is his calling to create. We're looking forward to the future to see the next chapter of his life as art.