Señor Ernesto Delgado's Napa Valley – the Inspiration that Guides His Vision
---
Written for Señor Ernesto Delgado
Two 'expladores' and their gracious guide travelled to the Napa Valley recently. We wanted to experience the valley where Ernesto Delgado grew up – from his perspective.
Señor Delgado is known as an innovative and creative entrepreneur. His sense of design spills over into every aspect of each of his businesses – it lives in the architecture, food, drinks and art. Some of this inspiration came from Napa, where Ernesto spent hours riding his bike and exploring downtown. It's also the place where his Mothers warm, love-filled kitchen delivered the foods of his memories – food created fresh from the garden, with care and love. Real foods like Carne con Chile, Caldo Miche and Turkey and Mole.
Driving through the hills near Lake Berryessa brought back memories of long sunny afternoons swimming with friends on days we should have been in school. As we gradually reached downtown Napa, it was reassuringly familiar. The beautiful buildings are a mix of Victorian, Art Deco and Renaissance architecture. Even the Napa Milling building looked familiar, though it no longer houses bags of sweet-smelling molasses rich grains and bales of oat hay.
We began our culinary adventure at Oxbow, a covered, open-air market much like those you visit in Guadalajara. Both beautiful and functional, it houses a swoon-inducing array of food and drink, plus a unique book store, spice merchant, wine tasting, artisanal cheese, bakery, a real butcher shop and more. (take a virtual look at Oxbow here – the only thing missing is the heady aromas and musical sounds of joy) Ernesto chose his favorite breakfast for us – a fresh taco with scrambled eggs, pico de gallo, avocado, cotija cheese, cilantro and crunchy greens, topped with a chipotle aioli. That, combined with a cup of freshly made Café de Olla, only enhanced the friendly, community feeling of well-sated visitors. Oxbow was an experience of sight, sound, and aromas. It's easy to see where Ernesto got his inspiration for La Cosecha by Mayahuel, which will define community for Downtown Sacramento much as Oxbow has for Napa.
Our next adventure was visiting the Celadon gardens at the Napa Valley Inn. A path led us into a magical garden full of Hydrangea that belonged in a tale of giants. We walked past weathered-brick walls lined with fragrant flowers and lush foliage. Shady areas were dappled with sunlight as the plants basked in their glory. A loamy, damp scent mixed with the perfume of the flowers. The gardens opened to a lovely courtyard, adjacent to a path along the Napa River.
Nearby, Morimoto Restaurant beckoned us. Chef Masaharu Morimoto, of Iron Chef fame, has created a remarkable ambiance. At first glance, the tall ceilings and walls adorned with ancient grape vines seems minimalist. In a moment, you realize the space was designed to make the food and drink the star. The kitchen, in the middle of the restaurant, is in plain view. Tall glass window-walls allow the river and gardens to become part of the experience. With Ernesto's recommendation, we enjoyed a glass of fine wine, delivered by bartender Luis Sanchez. Luis shared his story – one of a love for the flavors of his home in Guadalajara. Coming to the United States with his wife, who grew up in Oaxaca, was a dream. He brings his unique and creative mixologist background to Morimoto, much like Oscar Escobar does for Mayahuel. Luis was creating a drink made from Tajin Chile, lime juice, mango and several other ingredients added too fast for us to remember. He graciously gave us a taste of this concoction. A magician sharing his magic. We were able to envision Ernesto's Mesa Mercado while in Morimoto – the tall ceilings, openness, and especially the centrally located kitchen providing an uninterrupted view of the culinary wizards performing their alchemy.
From Morimoto, we strolled through downtown, visiting the old Hatt building, which used to house the local mill and feed store. As a boy, Ernesto used to ride his bike up the ramp and launch it off the dock, becoming airborne with the compelling allure of flight – even for only a moment. We're just glad his mother never found out. Sometimes Nature is kind to let us mothers live in a state of blissful ignorance about our offspring.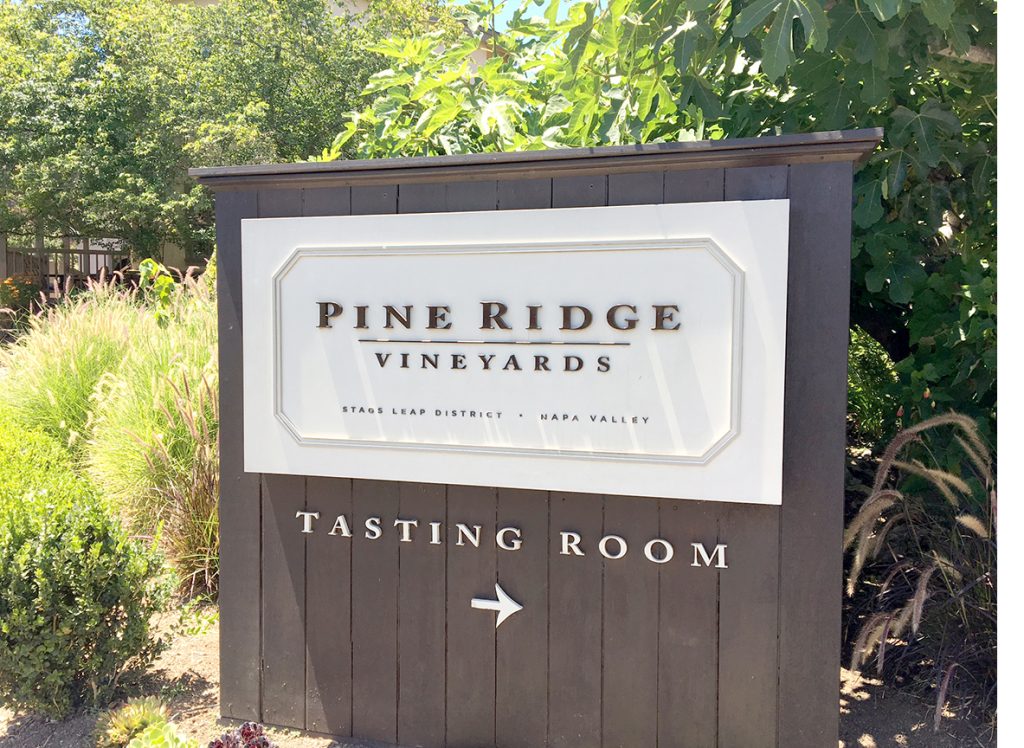 Visiting Pine Ridge Vineyards was memorable. Just out of town, in the Stag's Leap area of the Silverado Trail, sits Pine Ridge. Ernesto's cousin, the gracious Gustavo Aviña, took a break from working in the sun to show us the winery. Gustavo, who has been featured in Latino Leaders magazine, is the vineyard manager for Pine Ridge. Overseeing the vines for eleven properties, Gustavo has the same passion for the grapes as Ernesto does for his restaurants. Both share the conviction that quality begins with the finest ingredients – and neither considers compromise an option.
At Pine Ridge, we toured the gardens and picnic areas, observed the demonstration garden taking shape, and retreated to the cool tasting room. Beginning with a glass of Chardonnay, we were greeted by Winemaker Michael Beaulac. From there, we willingly followed Gustavo into the wine caves. If you have never experienced a barrel tasting, it needs to go to the top of your list. We wound our way through the many-armed caves, wine glasses clutched firmly in hand, stopping to taste luscious Cabernet Sauvignons. Each one was more extraordinary than the last. One, aging gracefully in a barrel clearly designed to house only the finest appellation, burst in our mouths like the blossoming of a rose. We were all rendered speechless with pleasure.
The last stop on our adventure was Farmstead at Long Meadow Ranch. The inclusive and intimate indoor and outdoor areas are very similar to Mayahuel's lovely patio and the planned outdoor seating at La Cosecha. There are similarities in food as well. The food is seasonal, ingredient-driven, and prepared to allow the flavors and textures to shine. Everything on the menu is grown in Farmstead's gardens (except the grass fed beef and lamb, which grazes happily nearby). The restaurant is in a former nursery building, with an open kitchen. Again, we were stuck by the clear inspiration Ernesto took from this magical place. The affable Gustavo joined our team of explorers for a late lunch and brought along a bottle of Pine Ridge Chenin Blanc Viognier, which our server chilled. We were all happy to let Ernesto choose a variety of dishes for us to share. One after another, out came plates of fire roasted corn with cotija cheese, grass-fed steak tartare with farm egg and capers, caramelized beets with Skyhill Farms goat cheese crema, brick cooked chicken with rancho gordo heirloom beans, and Passmore Ranch trout with shaved fennel and cauliflower. Farmstead's signature cheddar biscuits completed the meal. For dessert, we shared freshly made beignets with bourbon caramel sauce.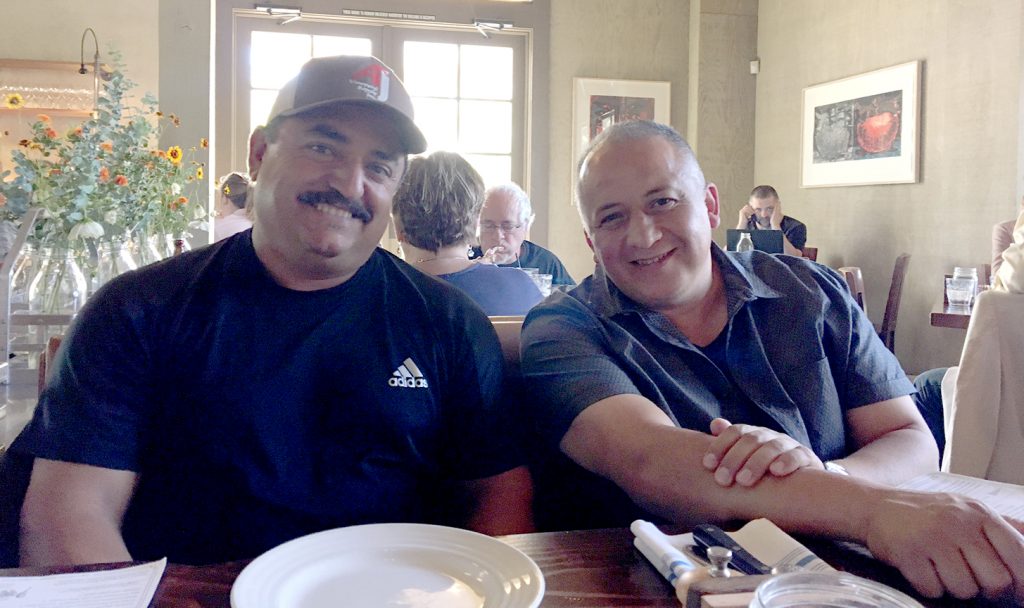 More than the seasonal food, the fine wine, and the beautiful inclusive surroundings, it was the total experience that gave us a unique glimpse into the inspiration Ernesto Delgado has for each of his restaurants – the vision of a designer always looking to create something unique that exemplifies the beauty living all around us.
The expladores returned home profoundly changed and immensely grateful.