Written for Señor Ernesto Delgado
The sweeping, larger-than-life murals in Mayahuel are a soul connection between the present and our ancient ancestors. The moment you walk in, you feel a visceral and primitive part of your being rise to the surface; reminding you of ancient life, ritual and passions.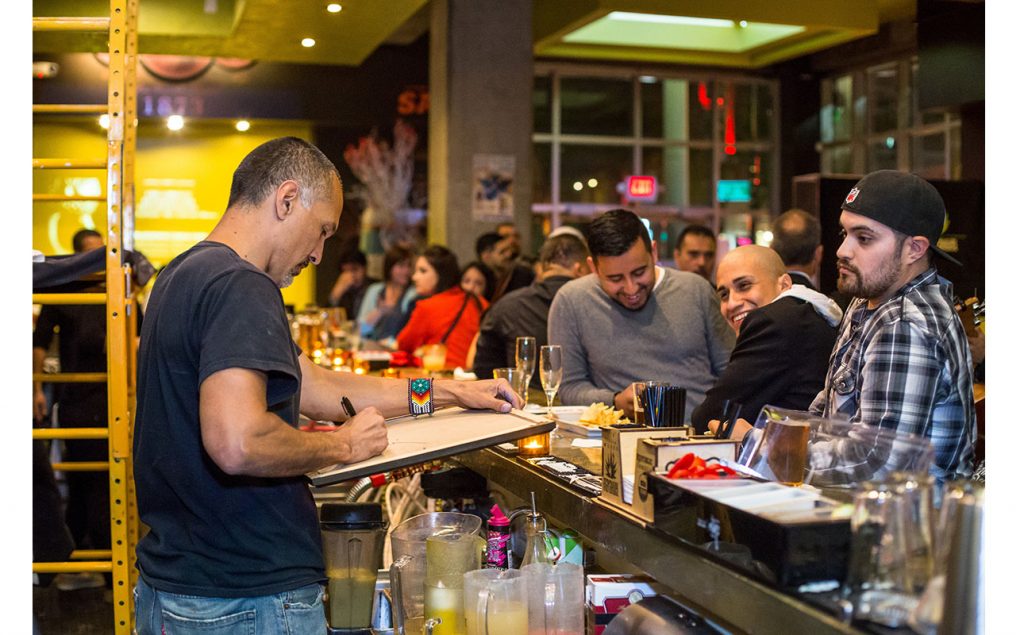 It's an art that defies logic. It breaks the barrier of ego. It transcends time and space and creates a window to a time when we were ruled by the seasons and feared the Gods. A time when the very center of life was guided by Maguey.
Artist 2hermano's work allows you to experience life as it was centuries ago in México, as if time as we perceive it is no longer relevant. You begin to feel you are part of the mural – the space between becomes blurred.
Life before art
Known by his given name – Gabriel Romo – when young, he grew up in a family for whom achievement was expected. His parents came to the United States from Mexico. Education was revered in his family – his parents, like many immigrants, wanted a better life for their children. His father came from Jalostotitlan, which is located 82 miles east of Guadalajara – a place known for rolling thunder, hot summer rain, and a very proud culture. 2 hermano attended private school, and excelled in academics as well as athletics. In his Del Paso Heights neighborhood (which was primarily African-American) he learned to blend the contrast of his father's proud cultural legacy with his own 'American-born' culture to create an amalgam which allowed him to comfortably fit in anywhere.
Following college, he held a number of management positions in corporations, the last of which was as a manager of a mortgage company. In 2006, as we were poised for the largest crash since the Great Depression, 2hermano had an awakening. He realized his passion and his life purpose was going unfulfilled.
The unfolding of an artist
Some of the world's most gifted artists began their career in a field they ultimately found profoundly at odds with the desire in their heart. Sculptor Louise Bourgeois, Claude Monet, Vincent Van Gogh, and folk artist Grandma Moses (who began painting in her 70's) are just a few.
2 Hermano left the job that was holding him back and felt a shift in awareness while visiting Costa Rica. For some time, he lived in quiet contemplation – eschewing the material life it seemed everyone else was pursuing. Seclusion can allow enlightenment – the transitioning from one life to another can require one to look deep within at everything he might have thought to be true, and hold it to a much different definition.
He traveled to Mexico to find his tribe – those with whom he shared a deeply passionate culture and the DNA of centuries past. During that time, he found others who were free spirits, thinkers and seekers of a greater meaning in their lives.
A study of Yoga and Meditation further opened his world. The physical benefits alone have proven worth the practice and dedication. It takes amazing focus, flexibility and strength to stand on scaffolding for hours at a time (often his murals take a month to complete). But it was 2hermano's spirit which grew most from the discipline. He decided to visit Pyramides del Ka in Guatemala – an exquisitely beautiful retreat located on the shores of Lake Atitlan, a crater lake in the Guatemalan highlands. There, he practiced his discipline while in seclusion for many days.
This magical place is one known to thinkers and seekers – from artists to executives – it is a place they visit with an open heart and mind to gain new insight into their life's purpose through 50 days of silence, meditation and lucid dreaming used in the practice of Yoga Nidra. They come hoping for clarity and leave with only the most essential vestiges of 'self' – like diamonds from carbon.
Life and the practice of art from deep within
When he began painting, 2hermano studied with painters Shaun Burner and Miguel Bounce Perez. These artists are unconventional – they engaged in 'freestyle art' using techniques not taught in any art school. In fact, 2hermano sees Perez (a muralist and designer whose work has been featured around the globe) as a mentor from whom he learned as they worked side by side on projects.
Upon return from Guatemala, he immersed himself in the study of design. The play of light and color on a late afternoon wall, the contrast in texture used to create perspective in interiors, the magic of lighting to make flat planes come alive with light and shadow. He then began to study murals, painting with his brother for nearly a year.
He was introduced to Sen. Ernesto Delgado, Owner of Mayahuel, through Jake Favour, a design professional in Sacramento. Sen. Delgado understood the impact of murals depicting the life and legends of México – the artful representation to illustrate the passion of a culture. The two began to collaborate.
From heart to wall – the message
The murals are gorgeous. In the Coa Room, a scene depicting a field worker fills a wall. His labor is performed in love – the love of his culture and of the power and magic held in the Agave. The blood of the Goddess Mayahuel flows from her body into Agave – and straight to the heart. There is sacred geometry in the mural, bringing us closer to the power of the ancient ones.
The young Goddess Mayahuel near the kitchen was inspired by Sen. Delgado's own beloved daughter, Maya. In this mural, an adolescent Mayahuel holds the Agave in reverence for the transformational power of new life and the elixir of a culture created around the magic of Maguey. She clearly feels the promise of new life; the healing medicine of the Agave. The symbolism around the celebration of the harvest and the acknowledgement to the Gods of the gift is clear.
A bright blue Hummingbird graces the Tequila bar. The Hummingbird represents fearlessness and lightness of being; she brings magic to the air surrounding her. The image of the blue Hummingbird came to 2hermano repeatedly, clearly demanding to be brought to life.
On the West wall of the Coa Room is one of the most interesting and thought-provoking murals. A woman, clearly possessing equal parts maternal power and compassion, cradles a large rather uncontrolled Rabbit. The Rabbit represents the many kinds of drunkenness in legend; the intoxication of power, of passion, and even the more immediate drunkenness caused by an excess of Agave spirits. In all, there are 400 drunken Rabbit Gods in Aztec mythology. 'Two Rabbit' was considered king of the Drunken Rabbits and God of Maguey. Tepoztecatl was connected with fertility and drunkenness. Again, sacred geometry connects the ancient spirits to the present, allowing the drunken Rabbit God to watch over the guests as they enjoy Agave spirits, much like it was experienced centuries ago.
The future of a gift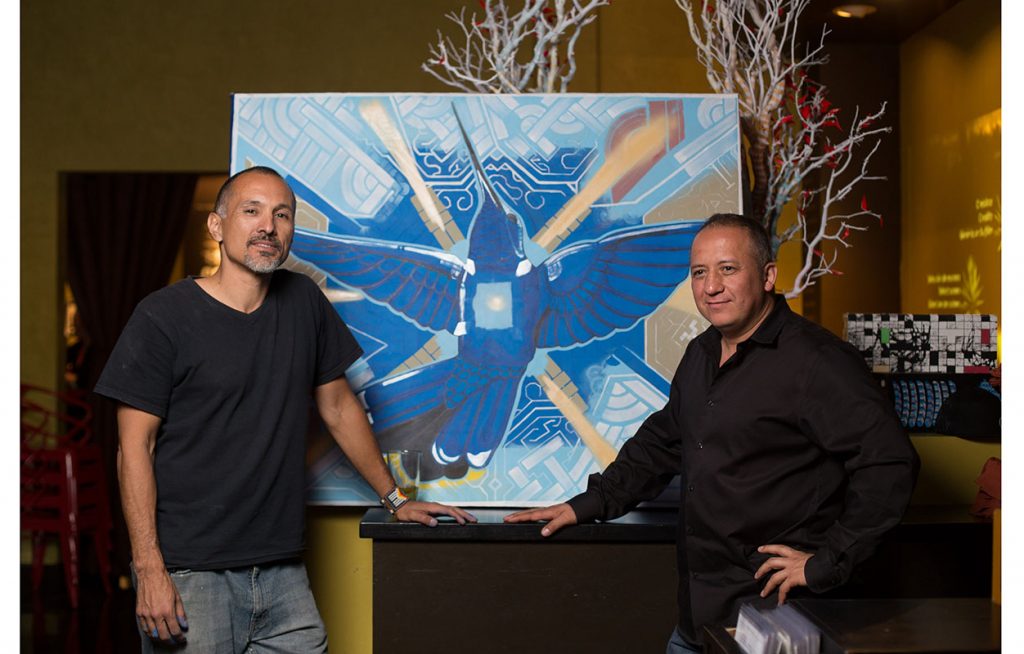 2hermano's vision and purpose are eminently clear – to follow his heart and stay open to limitless possibilities. He embraces the inspiration and images that are filtered through him, allowing him to tell the story of a culture filled with beauty, passion and myth. In everything he does, art serves as a powerful reason to exist.
Currently, he and Señor Delgado are collaborating on the mural images for La Cosecha by Mayahuel, scheduled to open this summer in Cesar Chavez Plaza, Downtown Sacramento.