Dinner at the Barn 2016 – A 'Center for Land-Based Learning' Event
---
When a community comes together for a cause, magic happens!
"What an amazing event! Walking through tables full of guests and having people stop to tell me how much they loved the delicious and flavorful food was probably my favorite part of the event. I was floored by the overwhelmingly positive response"
Christine McMorrow, Director of Development at the Center for Land-Based Learning couldn't be more pleased with the success of their recent event 'Dinner at the Barn'.  The event, held at the new Barn at the River in West Sacramento's Bridge District on Sunday, September 11th, featured our own Señor Ernesto Delgado and his team.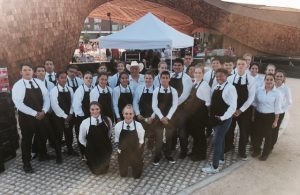 Twenty-eight High School Culinary students helped serve the Farm-to-Fork style meal to 220 guests. The Center for Land-Based Learning has a total of seven acres in West Sacramento, where they provide education for students who aspire to become farmers. They also offer continuing education for new farmers, with access to new markets for their produce. A weekly CSA (Community Supported Agriculture) program provides fresh produce to 32 households so far, with plans to open to the public next summer. The California Farm Academy is just one of the programs offered by the Center for Land-Based Learning, click here for more information.
A culinary and events venue celebrating the beauty of the area with a building which rises like a living sculpture and features an 80-foot long canopy, The Barn was the perfect place to hold this year's Center for Land-Based Learning fundraiser. The event sold out in just a day.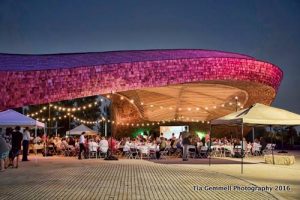 This was the first 'sit down' private dinner at the barn. The Center for Land-Based Learning held this year's fundraiser to build a new one-acre working farm at The Barn.  The land is in a perfect location – West Sacramento – and although it is bare land, the compacted soil must be amended with truckloads of compost. A water supply will need to be brought to the site as well.
You'll Wish You Were There
Señor Delgado served truly Mexican dishes using locally sourced, seasonal ingredients. Guests began with Bocaditos de México – small bites with Requeson cheese, Cochinita Pibil, and Chicken Tinga, served with an Asi Sabe México – our signature cocktail with fresh watermelon, cucumber and lime juices mixed with Dos Volcanes Tequila.
Following the appetizers was a salad with juicy watermelon, luscious ripe figs, tender spinach, caramelized walnuts and fresh orange vinaigrette. The main course was a Chile en Nogada – a fresh roasted chile poblano pepper stuffed with picadillo (ground beef, ground pork, plump raisins, ripe figs, juicy peaches, crisp apples and fresh herbs) and topped with a sauce made with double cream, fresh cheese, and tender walnuts. Ripe pomegranate seeds are scattered over this beautiful dish which represents the lively colors of the Mexican flag.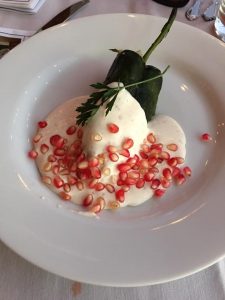 The 'Imposible' was served for dessert – rich, moist deep chocolate cake on the bottom, with creamy, caramelly flan magically above. Served with toasted almonds, walnuts, and freshly whipped cream. Fresh Horchata was served as well.
The produce for the event was donated by local farmers, including Jay Cuff-  Hearty Fork Farm,  Hope Sippola & Shayne Zururilgen –  Fiery Ginger Farm, Toby Hastings- Free Spirit Farm, Michael Bosworth – Rue & Forsman Ranch, Riverdog Farm, Matt Byrne – Sunfed Ranch, and Sara Bernal- West Sacramento Urban Farm, 5th & C.
Señor Delgado donated his time and that of his team. In preparation for the event, The Center for Land-Based Learning included a 'Meet the Chef' interview, in which Señor Delgado shared some of his secrets – such as his culinary idols and his favorite food memory.  Click here to see the interview.
Christine added "Ernesto was so kind – thoughtful and sincere. When challenges came up, as they always do, he calmly helped problem-solve. He and his team were such a pleasure to work with! They cared about the food, the presentation and the guest experience" Her favorite dish? "Chile en Nogada! It was so beautiful, and perfectly expressed the seasonality and value of local, fresh produce."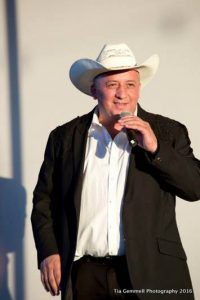 Supporting the Future of Our Local Resources
Ernesto Delgado supports a number of Community Outreach programs in Sacramento, including the Center for Land-Based Learning, and the California Restaurant Association Education Foundation's ProStart program.  Look for future articles and photos in our newsletter (click here to sign up), website and on Facebook, Twitter, and Instagram.
We encourage you to support the Center for Land-Based Learning with your donations, participation in their great events, and volunteerism. Click here to read more about Land-Based Learning. Without farmers, our legacy as the Farm-to-Fork Capital of America would not be possible!
Photos used courtesy Tia Gemmell and The Center for Land-Based Learning