Service at Mayahuel – How Señor Ernesto Delgado's Approach is Unique
---
Written for Señor Ernesto Delgado
We've all been to a restaurant where the food is exquisite, the décor is gorgeous, and there's a long wait for a reservation.
All that is worthless if the service is terrible.
An outstanding dining experience requires trust. The host has the responsibility to initially earn that trust – they are the first person you encounter in the restaurant. After that, every person with whom the guest comes into contact can either reinforce that trust or break it.
Do mistakes occur? Of course! There is not a restaurant anywhere that hasn't made an error. Sometimes a steak is not cooked to order, or the onions your guest asked to be left off mysteriously appear on the plate. But if the service is first-rate, the guest will likely still be very pleased with the outcome. When mistakes are made, restaurants who understand the relationship they have with their guests will instantly acknowledge the error, make it right, and offer something for the trouble – such as a glass of wine or dessert. The ability to gracefully handle the challenges that inevitably arise is what sets the great restaurants apart from the others.
It's really a matter of branding. A restaurant's 'brand' is the experience the guests expect to have when they come for a meal.
According to a Harvard Business Study on Starbucks, guests who were 'very satisfied' were twice as likely to revisit the coffee house as those who were merely 'satisfied'. Why? We all want to matter. When we go out for a nice meal, we want to be treated as if our experience is important to the restaurant.
So how does Ernesto Delgado approach service?
Ernesto came up with a strategy to get his team enthusiastic about service with a 'service campaign'. From that moment, the focus and energy of every meeting was about service. Every goal the team set together included service as one of the most essential items. The simplicity and beauty of service as its own goal.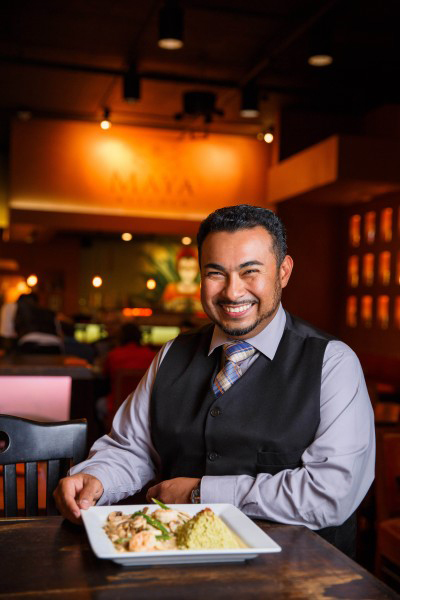 Manager Francisco Medina and Server Ernesto Munoz add their personal attention to detail to every guest experience. Each have wholly embraced the concept of 'service first' – creating a ripple effect throughout the team.
The study of successful restaurateurs is high on his list. Danny Meyer, CEO of Union Square Hospitality Group which owns Union Square Café and Gramercy Tavern (among others) is known for his clarity about what constitutes great service. Starbucks CEO Howard Schultz, and Joe Bastianich, who with partner Mario Batali owns 30 restaurants worldwide are others who have shared their thoughts on hospitality.
Ernesto's favorite quote by Danny Meyer is 'It's the job of any business owner to be clear about the company's nonnegotiable core values. They're the riverbanks that help guide us as we refine and improve on performance and excellence.' Danny Meyer's strong core values and clear vision for his restaurants have led him to very successful hiring practices – which he shares via his excellent books.
Howard Schultz has been instrumental in branding Starbucks in large part because of his democratic leadership style. He inspires and motivates his team, encourages feedback from every member – even personally reaching out to those who submit ideas to improve product quality or service. He empowers his team to make decisions where it matters – in each Starbucks coffee house.
Joe Bastianich partners Mario Batali and Lidia Bastianich look for team members who have a willingness to learn and grow, and the ability to collaborate with others.
Being dedicated to service is a commitment that Ernesto understands well – to be a top Restaurateur requires an enthusiastic, well-trained, and cooperative team with strong leadership – a leader who is crystal clear about the mission and the core values of the restaurant.
Staying Motivated
Ernesto also studies motivational speakers such as Les Brown and Eric Thomas. It's as intrinsic, as much a part of his daily routine as brushing his teeth or enjoying a morning coffee.
Each of these motivational speakers has a unique approach. Les Brown, a world-renowned motivational speaker is a strong believer in building stellar customer service as part of one's everyday way of life. His recommendations include:
Provide more service than you get paid for
Build relationships through trust
Amaze your customers above and beyond what is necessary
Educator, author and activist Eric Thomas advises:
Be great in every single thing you do
These words are what Ernesto lives by. He understands that great service in any business begins with a trusting relationship between the team and management. Providing an environment where employees can shine – giving them the tools they need to do their job well, providing them with excellent training, trusting them to do an outstanding job and helping them problem-solve when needed – without fear – are all tenets of the kind of management in which Ernesto believes. He feels that every job – from dishwasher to server, busser to manager – are all equally of value. Every job is worth doing well. Every member of the team is essential to the health of the overall business.
This 'Bottom-up' method of management is not common in restaurants. But Ernesto is in good company. Firms like Starbucks, The New York Times, and IBM all follow this business model.
Members of the team are invited to participate in the day to day running of the business. They are a part of the goal planning and encouraged to make suggestions during meetings. Everyone feels invested in the success of the restaurant, because each person is responsible for that success. Mayahuel's mission becomes the 'boss'.
When the team is empowered and valued, outstanding customer service falls into place. When a server feels the part he plays is essential to the success of the restaurant, he proudly provides the best service possible. When a chef understands the part she plays directly affects both the bottom line and everyone else on the team, she works harder to get every detail right. When a dishwasher feels empowered and valued, he takes pride in a job well done.
Being great in every single thing you do is something Ernesto thinks about every day. It's what drives him to succeed, to treat every guest as if they are the single most important person present, to value his team and help them succeed, and to not only serve his guests – but endeavor to amaze them –with every meal.