Mayahuel's Manager, Francisco Medina
---
Written for Señor Ernesto Delgado
The moment you meet Francisco Medina, you feel as if you've been warmed by the Sun.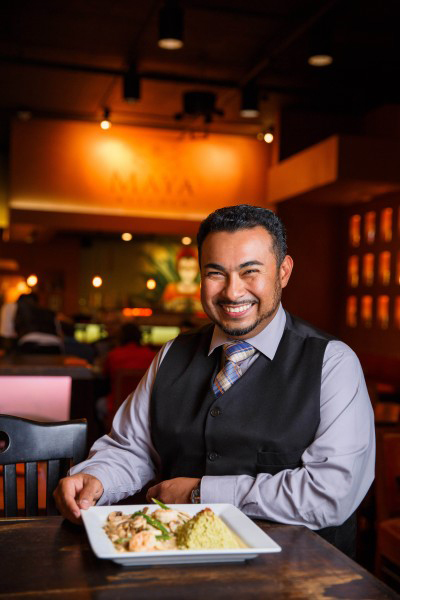 If we are very fortunate, on a few occasions in our lives we'll get to meet individuals who exude warmth, sincerity and good will to the extent it feels like they are surrounded by light. Francisco Medina is one of these rare people.
Growing Up
He grew up in Tecuala, a town in the State of Nayarit, Mexico. The youngest of seven children, he felt treasured by his parents and siblings as he spent his childhood in this paradise.
A veteran traveler from the time he was small, Francisco grew up flying back and forth from Mexico to the United States with his family on a regular basis. He passionately loved flying – and decided at a very tender age to become a commercial airline pilot.
At night he dreamed about flying – about the beautiful cabins in the 747 with the instruments that held so much information. The sheer power of the jet engines; the thrill of taking off and hearing the landing gear settle into place.  He loved the precision of aerodynamics and principles of flight. He studied meteorology and windshear.
At the age of twelve, he and his family visited Sacramento on a summer vacation. Francisco, older than his years, wanted to work. He got a job helping out at the Thursday Night Market. He met a man who stood in front of a nice Italian restaurant in downtown every morning. Francisco offered to water plants, sweep sidewalks, do any job – he made an impression on the man who, as it turned out, owned the restaurant.
During the summers here in Sacramento, Francisco worked his way up to dishwasher and then busboy. What his employer saw was a young man who was not only willing to work hard, but was lightning fast. Loving Francisco's work ethic, the owner taught him about the business. Francisco remembers him as tough but extraordinarily fair.
Francisco started Commercial Pilot School when he was eighteen, excited to finally be on the way to realizing his lifelong dream. Fate, as it does for many of us, took an unexpected turn. His parents decided to divorce. Money was in short supply. Francisco needed to work to help support his Mother, who came to live with him in the U.S.  He had to put his dream of flying aside.
Around that time, during a visit with his Father in Mexico, the two were sitting on the front porch, enjoying the passersby in the small town. Francisco noticed a beautiful girl walking by. Her smile was dazzling. He was smitten. He asked his Father who she was. The answer surprised him – it was the same little girl who had mercilessly picked on him in elementary school! They've been married thirteen years now, and have three beautiful children – two daughters, age 6 and 13 and a son, age 5.
Discovering the Restaurant Business
What followed his exit from pilot school was a job working for his Uncle, who owned a restaurant for 42 years. Francisco began to love the business – the enjoyment of people when they had a good meal and felt they were at home. He spent twelve years learning every aspect of the business until his Uncle decided to retire. He then worked at El Patron, where he met Ernesto Delgado. Francisco saw greatness in Ernesto – a creativity and drive with which he identified. When Ernesto opened Mayahuel, the path was clear. Francisco never looked back. He began his career as a server, then was promoted to lead server, and eventually to manager.
Francisco's Life at Mayahuel
He's very sincere when he says he's proud of Ernesto and all he's accomplished. Francisco considers him a good friend – someone he completely trusts and admires. He loves the nickname Ernesto gave him – 'Pancho' and grins from ear to ear when he shares this.
If you ask Ernesto about Francisco, he talks about the complete trust they have – that they are in constant communication from 6 a.m. – 2 a.m. day in and day out. Ernesto loves that Francisco is 100% dedicated to the success of Mayahuel. "Mayahuel would not run as efficiently without Francisco – his hard work, dedication, and ability to effectively communicate with everyone", says Ernesto. "One of us is always here – we're a very 'hands-on' team- management should be involved in every facet of the restaurant." If you visit Mayahuel, you will see one or both of them visiting with guests, supporting the team, helping in the kitchen, or even setting a table.
Francisco wishes people could have a better understanding that it takes a team to create a great restaurant – each person from the dishwasher to the manager is equally essential to its success. He is quick to point out that every member of Mayahuel's team deserves credit for the delicious cuisine and family atmosphere enjoyed by guests.
Most of his waking hours are spent at Mayahuel, where he makes everyone's life a little brighter – whether it is an employee or a guest. On his time off, he adores sharing ice cream with his teenage daughter and taking the younger kids to the park to watch them laugh and play. His wife understands his need to work long hours and supports him in his passion to bring the true feeling of Mexico to Sacramento. No longer picking on him like she did when they were seven years old, she is his biggest supporter.
What does the future hold for Francisco? He plans to stick with his friend and mentor Ernesto, and welcomes whatever challenges may come as they keep growing. As far as Francisco is concerned, working every day toward perfection is a gift he's been given.