A Love of Mole and the Best of Mexican Gastronomy
---
La Feria de Los Moles
In October, Mayahuel's Señor Ernesto Delgado and Chef Coco Mondragon visited Los Angeles to attend the Premier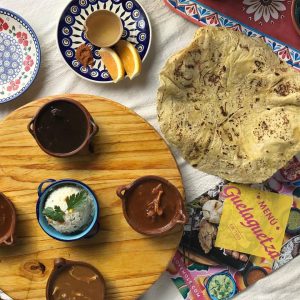 Mole Festival – 'La Feria de Los Moles'.
Mole is not one dish, rather the word "mole" originates from the Nahuatl "mulli," which means sauce, or stew. Almost every state in México has a number of Moles which are favored in that region – and came to be because of the availability of raw ingredients.
Created by Pedro Ramos, a Puebla native, the event attracts thousands of visitors each year who come to taste the amazing and varied array of Moles. Pedro was inspired by his Grandmother's recipes; her Mole was the most requested dish at every party in his hometown. Mole Poblano is the specialty of Puebla and was originally served most often over turkey.
In the State of Oaxaca alone, there are seven main varieties of Mole (though there are dozens of variations) – Coloradito, Rojo, Verde, negro, chichilo, almond and Amarillo. These range from sweet to spicy, delicate to rich and deep.
The one thing all Moles have in common is the complexity of the recipe, the number of ingredients, and the long, slow cooking time. These are not everyday dishes – they are dishes of celebrations, used to mark special events and create memories.
An Exploration of Flavor
While in Los Angeles, Señor Delgado and Chef Mondragon decided to visit a couple of local eateries known for their authenticity and unique take on regional Mexican foods. The one thing all great Chefs have in common is a love for food and a desire to experience the creativity of others.
Historically, cooking in México was done by women. Taught from an early age by Mothers and Grandmothers, women were expected to create time-honored recipes for their families. Until fairly recent history, men simply didn't cook – or if they did, they did so quietly.
Not so anymore. Some of the best Mexican Chefs today are men. Enrique Olvera, José Luis Diáz, and Julio Aguilera are all Oaxacan chefs who are world-renowned. One of the most revered chefs in Los Angeles is Ray Garcia, of Broken Spanish and BS Taqueria.
A Clash of Cultures at Broken Spanish
Chef Ray Garcia has a unique perspective and an innate ability to combine fresh ingredients with cultural adventure – all of which are incredibly delicious.
Señor Delgado and Chef Mondragon tried a number of dishes at Broken Spanish, including an appetizer called Caracoles – a delicate combination of Snails, Mushroom, Mole Verde, and Stinging Nettle. Following came an order of Heirloom Corn Tortillas, which were fragrant and warm – with the flavor of fresh-picked corn from the garden. They then ordered the Tostada – which featured Habas (a variety of Fava Bean), Pea Salsa Verde, "Little Lamb", Carrot Escabeche (a spicy, crisp picked carrot with radish, garlic, jalapeno, and garlic). The final dish was Camote– a dish made with sweet potato, tender pig tail, Trompa (Pig snout – a delicacy in many cultures), Chile de Arbol, and Verjus (a juice made from pressed unripe grapes – a gentle sweet-tart flavor like a soft vinegar) The meal was unique, delicious, and memorable.
To learn more about Broken Spanish and BS Taqueria – and the amazing Chef Ray Garcia, click here.
Guelaguetza – An Island of Oaxaca in Los Angeles
A visit to Los Angeles, especially one which involves the exploration of Mexican food, would not be complete without eating at Guelaguetza. This restaurant is truly Oaxacan. Family run, their mission is to bring the flavors and ingredients of Oaxaca to their guests.
The murals themselves are worth the visit. On one wall, larger-than-life children are depicted holding hens and carrying fresh ears of corn. Another wall shows a Mexican accordion player practicing his craft with intense focus.
Our explorers perused the restaurant and adjacent market before their meal, which was memorable. A few of the highlights:
~ Botana Oaxaquena – A platter full of Oaxacan favorites, including Oaxacan string cheese, memelas (fried masa cakes
with queso fresco and fresh herbs, chorizo, tasajo (a thinly sliced grilled, seasoned beef), cecina (marinated cured pork, sliced paper thin and brushed with chiles), chile Relleno, carnitas, guacamole, and black beans.
~ Festival de Moles – Samples of several Oaxacan Moles, including Rojo, Verde, chicilo, and Coloradito, served with fresh handmade tortillas.
~ Canasta Costena – tender-crisp breaded seafood, Oaxacan style.
These 'family-style sample platters' were generous beyond imagination. The food was not only delicious, it was plentiful – so much so that Señor Delgado and Chef Mondragon shared it with nearby surprised, but happily willing diners.
Renowned Pulitzer Prize-winning food critic Jonathan Gold called Guelaguetza 'The Best Oaxacan Restaurant in the country'. It has recently been awarded the James Beard Award in the 'American Classics' category.
To check out their menu and see photos of the incredible murals, click here.
Learning, Exploring, and Sharing
Señor Delgado and Chef Mondragon were able to fit an impressive amount of food exploration into a short trip to Los Angeles. They returned with new ideas, a renewed enthusiasm for unique culinary styles and inspiration for future dishes which represent the best of what truly Mexican food offers.