El Tesoro Tequila – The Most Awarded Tequila in the World
---
Written for Señor Ernesto Delgado
El Tesoro Tequila – the standard by which all tequila should be judged. 
Connoisseurs of fine Tequila have individual 'favorites', but nearly all will agree that El Tesoro is the gold standard by which fine tequila can be judged.  We spent an evening with Senor Carlos Camarena, of El Tesoro Tequila recently – tasting the incomparable Blanco, Reposado, and Anejo.
Senor Camarena is an entertainer. He loves to tell stories of his life in a family that reveres the Agave, and whose driving force is to produce the world's finest tequila.
El Tesoro, 'The Treasure', was started by his grandfather, Don Felipe.  Don Felipe had a dream – he knew in his heart that if he created something truly special, people would buy it. Don Felipe hired field workers to plant many acres of Agave plants. The workers laughed behind his back – why would anyone pay to plant something you could not eat? They all thought it was funny that this man would pay them to plant these inedible plants and then would have to pay them again just to remove them from the dirt.
Don Felipe believed that it is essential to bring craftsmanship to every step of the tequila-making process. His life was devoted to the production of small-batches of the exquisite liquid. Through Carlos Camarena, this tradition continues.  The recipes used today are the same as those his grandfather used. The process is every bit as exacting. After the baked agave is crushed by the tahona wheel, the fibers remain with the fermented liquid through the first distillation. The tequila is then distilled twice with no additives – even water – to bring it to proof. It's always distilled to the exact proof required for bottling.
Here are some notes from our tasting, and some reviews by others:
The Blanco was light and slightly fruity. It had a delicate aroma and was intensely herbal. A reviewer in AboutFood said it was 'bold, aromatic and amazingly smooth. A great sipper and perfect tequila for tequila cocktails'
The Reposado, aged two months – one year, was smooth, with an aroma of tobacco and a subtle sweet pepper herbal flavor. A reviewer found it 'mellow and rich, with subtle wood tones' and recommended it highly as a sipping tequila
The Anejo, aged from one to three years was creamy and luxurious, described by Beverage Testing Institute in 2010 as"A symphony of agave and spicy oak flavors." They echoed the sentiment in 2011 saying, "Stunning complexity and depth of flavor"
We were also treated to a taste of the El Tesoro de Don Felipe Paradiso, thanks to the generosity of Mayahuel's owner, Ernesto Delgado. Described by Tequila.net as 'Irresistable and deliciously smooth. Literally a paradise created by Don Felipe Camarena And Alain Royer of A. de Fussigny Cognac, it takes on a remarkable elegance from its distinct, Cognac barrel aging process.'  We thought it was almost too perfect for mere mortals!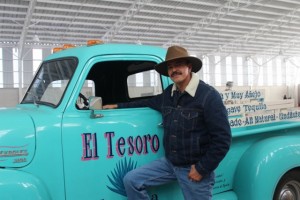 A perfect menu to complement the tequila
Cocktails and dinner for this event were also amazing. Master Mixologist Oscar Escobar created a cocktail with lemon juice, agave syrup, angostura bitters, fresh basil and El Tesoro Blanco. The resulting elixir was both refreshing and complex – a sophisticated drink.
Dinner began with Sikil P'ak, a thick and creamy pumpkin seed dip served with fresh, warm and crisp tortilla wedges. The next course was Mayahuel's famous Ceviche – tender, delicately flavored shrimp cooked in fresh lime juice, with  crisp cucumber, avocado & cilantro. Mayahuel's signature dish, creamy Poblano soup was served after the Ceviche. Silky and spicy, it was a perfect following to the tartness of the Ceviche. A new entree was introduced – Adobo de Res, tender slow-simmered beef in an adobe 'tres chiles' sauce -a flavorful rich and complex sauce – served with avocado, fresh red onions and white rice. The finale was akin to eating a cloud. Fresh Margarita lime custard. The room, which had been buzzing with conversation, went silent while we savored each spoonful.
The highlight of the evening for most was the unexpected tasting of the El Tesoro de Don Felipe Paradiso. Most of us never have the opportunity to taste tequila of this caliber – and it has likely spoiled us forever by giving us a new pinnacle by which to judge all tequilas.
El Tesoro puts quality before quantity – with small-batch exquisite tequilas made with regard for excellence. The end result clearly shows the passion and perfection. When asked what he would say to his grandfather if he could talk with him today, Senor Camerena said "I'd ask him if he was proud, if he feels we have realized his vision." We're certain Don Felipe would be very proud, indeed.