My Agave Pick for October
---
Señor Ernesto Delgado –

I've been sharing a Tequila or Mezcal with you every month – one I think you'll love to try.
The first thing that attracts me is the look of the bottle and label. So many of the small-batch Agave spirits are bottled in a way that's artful and meant to pay tribute to a region or history. When I see that a lot of care has gone into the selection of the glass, the shape of the bottle, and design of the label, I also feel excitement that the same meticulous care has gone into the contents.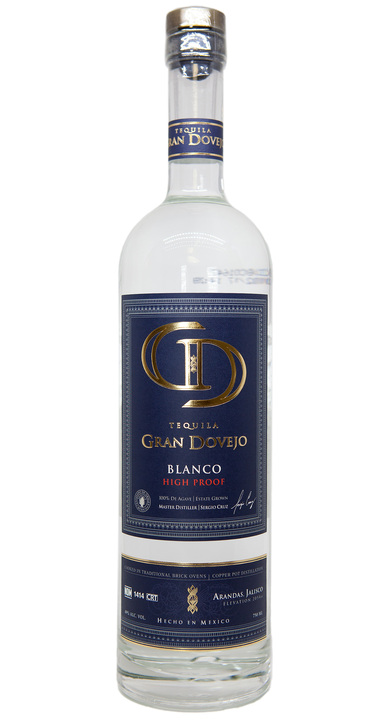 This month, I decided to try the Gran Dovejo High Proof Blanco. The bottle itself is intriguing, because it is lovely in its' simplicity. The bottle and label are classy and elegant, but allow the liquid to take center stage. This is inviting to an aficionado – we want to know more about what's inside.
A Local Connection
Sipping Tequila one warm summer day, Frank Mendez of Dixon and his cousin Jesus Venegas were having a heart-to-heart conversation about the desire of Aficionados to support the craftsmanship that goes into the finest Tequilas. At the time, there were many mass-produced brands on the market. Agave growers had an over-abundance of ripe plants, and opportunistic large producers were buying all they could at a low price. Frank and Jesus were concerned that the wrong people were getting into the business of Tequila for the wrong reasons- mainly profit – and both the purity of the spirit and the honor of the tradition were suffering.
Tequila and long conversations often seem to lead to the evolution of dreams. The two men felt passionately that Tequila should be created with craftsmanship and heart, and there in the heat of the afternoon, they made the decision to make their own brand. They wanted to do it right. Growing as nature intended; small production, proper distillation, patient aging. Making an ultra-premium, single estate Tequila with an Agave flavor.
They reached out to Leopoldo Solis Tinoco, who was something of a legend in the world of Tequila. He was a perfectionist. A Master Distiller who respected the Agave and the culture. They presented their idea, and were thrilled when he wanted to be part of the new brand.
Together, they selected fields of Agave which met their exacting standards. They chose the Feliciano Vivanco Distillery, located in the highlands of Arandas, Jalisco to process the raw Agave. Sen. Tinoco was joined by Gabriel Espindola Martinez, another influential Master Distiller whose reputation for integrity in the making of Tequila was legendary.
Today, Gran Dovejo is considered one of the truly Agave-forward ultra-premium Tequilas, earning numerous awards in prestigious Tequila competitions. Frank Mendez loves to give people an opportunity to taste what Tequila was meant to be. He hopes to grow distribution to allow a broader audience of people to taste fine Tequilas and learn how they are affected by micro-climates, terroir, and aging. How very much it resembles fine wine. One of his favorite activities is conducting blind tastings – asking people to pause and savor each Tequila, share the aromas and flavors they experience.
My impressions:
I feel the popularity of high-proof Tequila stems from the desire of people to have a more organic Agave experience. This Tequila is wonderful – at first aroma, it lifts your soul and makes you smile.
Gran Dovejo High Proof Blanco is extremely smooth, full of flavor, and exquisitely complex. No one aroma or flavor overpowers the other – it's well balanced and consistent, with soft Agave notes throughout.
Aromas and flavors of fresh Agave, citrus, and pineapple pleasantly invite you to linger. This will be loved by Aficionados, of course – but even the uninitiated drinkers will love it. I'd be happy to introduce someone to Tequila with this Blanco – and I think it will easily convert a non-Tequila drinker to appreciate the amazing qualities of fine Tequila. It's an elegant expression while remaining true to the spirit of Tequila.
Foods to try with Gran Dovejo High Proof Blanco
Unlike pairing fine wine with foods – where it's typical to choose a lighter white wine to go with fish or fowl, I find that the contrast between a Tequila and a food can truly raise the experience to a new level.
Here's what we tried and loved with the Gran Dovejo:
Enchiladas Tres Moles – 'Exhibiting México' – three enchiladas with three different moles: Mole Huitlacoche, Pipian and Poblano. These flavors are strong and full of spice. The Gran Dovejo High Proof Blanco's softness was such a perfect contrast it complemented the flavors without ever competing. The Agave/citrus/pineapple flavors seemed to heighten the flavors of both the food and the Tequila, so that together they seemed like a perfect symphony – every note beautiful.
I invite you to experience Gran Dovejo Blanco High Proof Tequila – whether you enjoy a simple, perfect glass or try it with your favorite spicy dish – I think you'll love it.
~Señor Ernesto Delgado