My Agave Pick for December– Señor Ernesto Delgado
---
Every month, I've been sharing a special Agave spirit with you – one I love and think you'll want to try.
As a designer, I always look at the bottle and label. The attention to detail often tells me what I can anticipate when I take that first taste.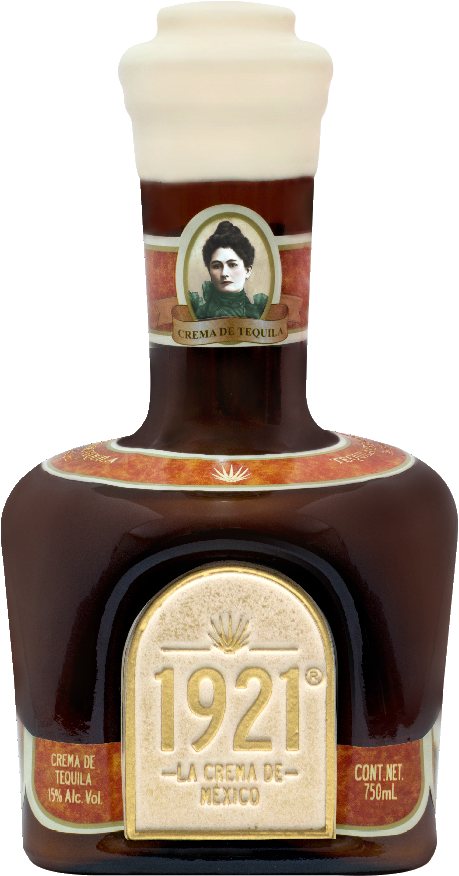 First Impressions:
The original Crema de Tequila 1921 label features Maria de Los Dolores Eugenia Collado de Jazo, the Abuela of Juan Francisco Collado, President of Tequila 1921. She was known as one of the most beautiful women in the state of Jalisco, and revered for her creative culinary pursuits.
Tequila 1921 has created two additional special labels for the Crema. 'Azul Riviera Maya' is the color of the Caribbean. It represents spirituality, freedom, power and life as a divine essence, and pays tribute to the Maya Culture which settled in Southeastern México thousands of years ago.
'Rosa Mexicano' was chosen to express energy, life-force and love. In 1949, Ramón Mexican Valdiosera, a painter, cartoonist, designer and journalist introduced this shade as a symbol of Mexican charisma.
History of Tequila 1921:
1921's acclaimed Blanco Tequila is used to create the Crema. Made from Agave grown in the Jalisco highlands, careful attention is given to ideal sugar concentration of the plants prior to harvest. They are cooked, rested and cooled over a slow 72 hour process.
Crema de Tequila 1921 is made in the City of León, which is located 90 miles East of the Jalisco Highlands in the State of Guanajuato. With an elevation of 5955', León is a cosmopolitan city of over 1.5 million residents, many universities, and a center of commerce for the area.
To the Blanco 1921 adds spices and natural flavors that enhance the mild sweet Agave flavor. It is tested to ensure it has the desired velvet texture and aromas of caramel, nutmeg, coffee and cinnamon and flavors of coffee, chocolate, honey, caramel and toffee.
My Impressions:
This is an excellent dessert served lightly chilled in a flute. I love the aromas of coffee, caramel, chocolate and spices. The flavor is complex and full of cream, nutmeg, cinnamon, coffee and chocolate with a hint of sweet Agave.
I love this liqueur by itself. Truly, it doesn't need anything to make it more perfect as a dessert to be savored.  However, I have also enjoyed the flavors this imparts to strong coffee and cocktails.  Most notably, our December holiday cocktail Maya's Rompope which features Crema 1921, Almond liqueur, fresh cream, Agave syrup and Egg froth is one of the most creative uses for this amazing liqueur.
Foods to try with Crema de Tequila 1921:
Quite honestly, I feel this is a dessert and is best after a robust, spicy dinner such as our Tres Moles Enchiladas or Adobo de Res.  It is a perfect digestif, with a creamy cooling affect.
If I were to choose a dessert to pair with this, it would be our Imposible – with rich moist chocolate cake on the bottom and creamy, caramelly flan on top.  Truly an indulgent combination of flavors that will send you into a dreamy, blissful dessert trance.
I invite you to enjoy the experience of a glass of Crema de Tequila 1921, or enjoy it in our Maya's Rompope – it will most definitely put you in the Holiday spirit!