Synopsis of Fire, Smoke & Legend
---
The first annual Fire, Smoke & Legend event is now history. It was successful beyond my imagination – with 50+ brands of the finest Tequilas, Mezcales, Bacanoras, Sotols, Oaxacan Rums and other Mexican Spirits, it became the iconic event of its kind for Sacramento.
I've always wanted to bring an event such as this to my community – after having many successful food and spirit events at each of my restaurants, I felt that Sacramento was ready to join me in celebration of the exquisite nature of spirits that come from my culture. Events like this have been held in the Bay Area and large Urban cities all over the U.S., but nothing on this scale has been done in Sacramento. My team and I changed that this July.
I chose to have the event at La Cosecha because of the large outdoor patio space and the feeling it gives of beautiful Mexican Plazas. La Cosecha is becoming a gathering place for friends, lovers, and families who are looking for a destination to enjoy live music, art, dance, great food and drink.
My primary goal with Fire, Smoke & Legend was to introduce my fellow Sacramentans to the history, passion and art that is behind every fine spirit. I wanted to share the knowledge about the families who have worked for centuries to produce perfection; who toil in the hot sun in fields dusty with volcanic soil. Those who often live in remote mountainous areas where the roads are barely passable and the monetary rewards slim. They do it for the love of the Agave.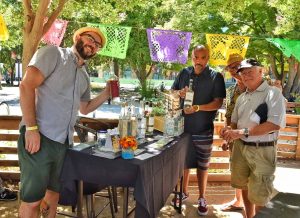 When one plans an event like this, the relationships with the owners, growers, producers and distributors is the most important aspect. Each of these brands are represented by people who are heartfelt in their desire to introduce others to the magic that spirits of Mexico bring.
What we share in common is the understanding in our hearts that the spirits of the Agave are steeped in passion and history, spirit and myth, artistry and magic. They represent centuries of ritual and superstition, the passing of secret methods from one generation to the next. Many Master Distillers of the finest Tequilas and Master Mezcaleros who create artisan Mezcales were there out of the love of our culture, pride in their artistry and desire to graciously share with our country.
We offered amazing street food to go with the tastings – foods that touched on the regional flavors that in many cases have been served with Agave spirits for hundreds of years. I was proud that all three of my restaurants participated in this – each bringing a beautiful and delicious presentation.
One of the highlights of the day was the educational presentation by Jake Lustig entitled Tequila and Mezcal – Agave at a Crossroads. To a standing-room-only crowd, he spoke of the unique challenges that face México's mezcal and tequila industries, as well as the solutions he and others are working on to ensure the spirits sustainability and enduring relevance. Jake is the owner of the Destilería Real de Minas Mezcal in Oaxaca and the Selección ArteNOM Tequilas in Jalisco. A San Francisco Bay Area native, he has spent much of his life traveling between California and Mexico, working for the past 24 years in areas of cultivation, distillery management, brand management, brand building, and for importers, exporters and distributors. I can honestly say I've never seen a crowd of people so riveted by a speaker.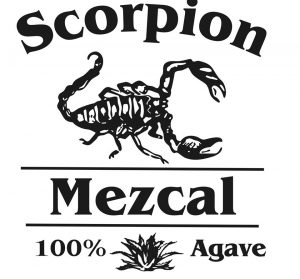 We were also joined by the amazing Doug French, owner of Scorpion Mezcal, Escorpion Mezcal and Sierra Norte Whiskey. Doug brings a wonderful sense of humor and vast knowledge to every event he attends. He is credited with bringing back varieties of corn in Oaxaca that were on the brink of extinction, and from those creating the most amazing Oaxacan Whisky – Sierra Norte. It was his suggestion that we offer our guests the opportunity to drink a Scorpion Sting Margarita, eat a REAL Scorpion and get a T-shirt or hat to prove it to their friends. He provided the shirts and hats, which were a huge hit. We had at least three dozen guests who eagerly consumed their Scorpions!
To bring a sense of fun and a little wildness to the event (as if eating Scorpions was not exciting enough!) we had a Wild Bartender Competition. Six of Sacramento's best bartenders competed for prize money and infamy. The wonderful Doug French also sponsored this event for a total of $500. Judges had to evaluate presentation, taste, technique and creativity. They sipped, deliberated and scored each contestant. The winner, Leo Soriano, now has his special cocktail, the Scorpion Sour permanently on the menu at La Cosecha.
The amazing Susan Coss of Mezcalistas not only came and shared her passion and knowledge of artisan Mezcal, she graciously helped every step of the way by offering advice and answering questions.
Our Agave Ambassadors, who were given the task of helping guests find a brand or expression they wanted, directing them to food or cocktails, and generally offering gracious assistance to anyone in need of an answer to a question – were truly a big part of this event. My heartfelt thank you to Rolando Navarro, the most gracious of Tequila aficionados; to Ernesto Hernandez, Mezcal aficionado extraordinaire, who not only helped where needed but cheerfully took on the task of doing a Facebook Live presentation complete with commentary; to Tracie Cone, who lights up the space wherever she is, with comic good humor and sincere love of Agave spirits – her job as emcee of the Wild Bartender Competition was as good as they get. I could not have done this without the three of them.
The best part of my day was talking with guests who had never experienced fine Agave spirits. Their delight and amazement when learning about the people and work that goes into each was worth all the work! I can't wait to bring this event to you again next year!