My Tequila Pick of the Month July ~ Señor Ernesto Delgado
---
Each month, I'll share with you a Tequila or Mezcal I love. As a Designer, I'm always drawn to the style and art on the bottles first. It's an adventure opening the bottle and tasting the Tequila, whether for the first time or simply after I haven't tried it for a while.
This month, I brought out one of my favorites to share with friends. Tequila 123. Together, we tasted the Blanco, Reposado and Añejo – without food and then paired with food. The results were amazing.
My personal taste tends to run toward crisp, clear Blancos. It's in these that I can admire the clear flavor of the Agave, the skill of the Master Distiller and the minerals from the soil.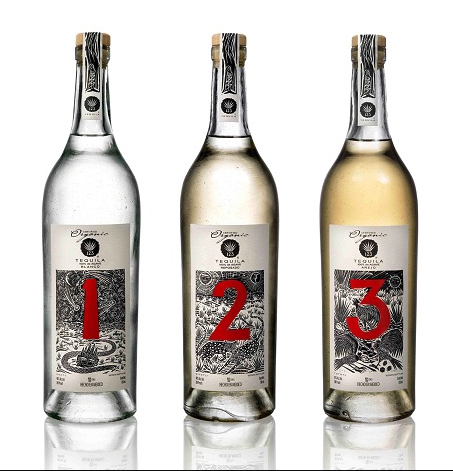 Tequila 123 is beautifully bottled and is intriguing from the first look. When I see the care and effort that went into the packaging, I want to learn more about the company and the Tequila. The glass is hand-blown with the bubbles that result from imperfections in the recycled glass when it is melted at high temperatures – gas and air become trapped in the molten liquid, creating bubbles. The Tequila 123 labels are simple and clear but true to the culture of México. They are meticulously created using black and white Scratch art with striking red accents. Scratch art employs a form of direct engraving where the artist scratches off dark ink to reveal a white or colored layer beneath. Tequila 123 has chosen to use only Soy ink in their labels, to stay true to the organic nature of the product. The style pays tribute to the history of México – from ancient times to present, while it embraces the future of Tequila.
Tequilero David Ravandi's vision was to create an organic Tequila specifically to please wine enthusiasts. Using artisan methods, small-batch distillation and hand-bottling on the estate, he has created a Tequila with delicate floral aromas and complex minerality.
Here are my impressions:
Blanco:
Very clean and easy to sip! An Agave forward aroma, quite different at the top of the glass and the bottom, with clear citrus, pineapple and very pleasant sweetness. The floral notes – almost tropical in nature – come out in the flavor, and when added to the citrus and pineapple give it an excellent, lingering flavor. This has a clean finish. Truly a Tequila to honor the Agave!
The Blanco was especially wonderful with our Guacamole. Both the Tequila and the Guacamole became more intense when enjoyed together, smoother and so wonderful it was difficult to move on to the other Tequilas. I wanted to stop time and simply enjoy this lovely combination. This is a Tequila for a fiesta, an outdoor celebration, when you want to serve something your guests will remember.
Reposado:
Aromas and flavors of sweet Agave, subtle caramel, with a mild toasted quality from the barrels. Very easy to sip and enjoy. I found it pleasing that the Agave flavor is still very present in this Reposado, and doesn't diminish during the aging process which is in white oak barrels for 6 months. I'd enjoy this Tequila in a relaxed, comfortable setting with someone special.
The Reposado was great with roasted Poblanos in our Dobladitas de Chile Poblano – Blue corn tortillas filled with melted cheese, roasted poblano peppers & sautéed onions. Topped with pickled red onion, cilantro and salsa de chile guajillo. The flavors were perfect together- I highly recommend ordering them so you can experience the combination.
Añejo:
This Tequila still maintains the Agave notes, though the nose is more subtle. The alcohol is more prominent, with a stronger, sharper Tequila note. Bright flavors of pepper are followed with darker, richer tastes of roasted Agave. The Añejo is aged for 18 months in white oak barrels.
The Añejo was really good with our Arrachera Tacos – the stronger Tequila note was balanced by the marinated flank steak, roasted Poblanos, and cilantro. I'd enjoy this Tequila with a hearty beef or pork dish.
Tequila tasting is very subjective. You and I may come up with entirely different tasting notes – and that is part of the fun. Just to give you an added dimension, here are a few reviews by distiller.com Expert Reviewer Ryan Conklin. Let me know what you taste!
Blanco:
"This unaged offering shows light and delicate floral aromas of lily and honeysuckle along with strong smells of raw agave nectar and fruity components of ripe peaches, watermelon and fresh-cut grass. There are earthy and citrus flavors found on the palate with wet clay, petrol, lemon peel, and sharp black pepper making impressions. The tequila is both complex and delicate displaying both the volcanic soil and the agave hearts themselves."
Reposado:
"This reposado offers a great balance between age and youthfulness, displaying herbal and vegetal aromas of grass, mint, and piquillo peppers followed fruit and baked aromas of marzipan, orange peel, cloves and Mexican chocolate. On the palate, there is a lot of fresh agave flavor, a lemony citrus-peel brightness followed by rich salted-caramel and vanilla notes. Overall, a rich and complex reposado offering great variance between spice, fruit and vegetal with a bold agave backbone and delicate minty finish."
Añejo:
"This Valley añejo displays big aromas of vanilla and oak, followed by dark, bitter Baker's chocolate and sweet ripe peaches. Up front, the flavors are of sharp white pepper and bright lemon peel, followed by rich roasted agave and orange marmalade. Overall, this is a rich and unctuous tequila with a very enjoyable evolution."
This was truly a magical tasting experience – one I'm sure I'll want to repeat.