Mayahuel's Chef Coco Mondragon
---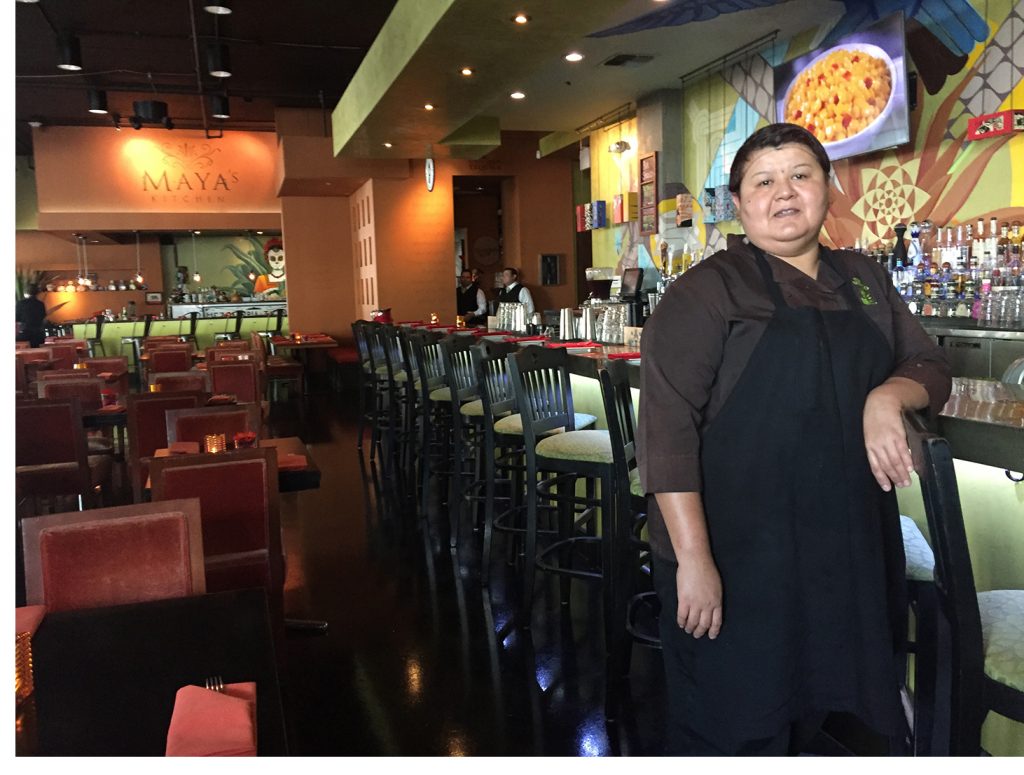 Chef Coco Mondragon cannot remember a time when the cooking of great food was not a central part of her life. As a young girl growing up in San José de Gracia, Jalisco, she spent hours in the kitchen basking in the aromas of her Grandmother's cooking – feeling the love that went into every dish.
In fact, Coco's Grandmother and Uncle perfected recipes together and the family benefitted from their passion. Using what was available seasonally in their home town, they created memorable dishes together. As a result, Coco loves to cook at home as well as at work – to experiment with flavors; play with ingredients. She especially loves fresh ingredients, particularly those with historical significance.
As a young woman, she came to the Sacramento area to work for her cousin, who owned a restaurant. Her goal was to learn everything possible in her path to become a chef. After that, she spent fourteen years as a chef in the Capitol building.
She avidly studies other chefs – those she feels embody the true spirit of Mexican cooking. One of her favorites is Diana Kennedy, the author of nine well-loved cookbooks on the foods of México, including 'The Art of Mexican Cooking'.
Another favorite chef is Ricardo Muñoz Zurita, who wrote the amazing 'Diccionario Enciclopedico De Gastronomia Mexicana'. The book documents every imaginable ingredient in Mexican gastronomy, the goal of which was to enhance knowledge worldwide and preserve a centuries-old tradition. Chef Mondragon loves that this book includes the preparation of each ingredient, with a detailed explanation of the differences between regions.
Chef Mondragon also holds a special place in her heart for Chef Susana Palazuelos, author of many cookbooks, including the revered 'México: The Beautiful Cookbook'. Chef Palazuelos, who has prepared meals for royalty, including the king of Malaysia and Queen Elizabeth II, is known for her love of regional cooking and ingredients as well as her inspired creativity.
Usually a bit reserved and quiet, Chef Mondragon's grin is both dazzling and contagious when asked about her 'guilty pleasure'. 'I love watching Kitchen Nightmares with Gordon Ramsey. The kitchens he visits are terrible, and through hard work, he manages to turn them around.'
Currently, Chef Mondragon is creating a small cookbook with her Grandmother's recipes, which includes stories of special days spent in her home, enjoying the food and the love that filled the small space. She has a deep appreciation for the memories created with food and wants to share with others. Her favorite part of working at Mayahuel? 'I love it here because my food can bring back good memories for the guests. Many of them may not have time to visit México, so they can remember it with the food.'
She's been with Mayahuel since its opening. Of Señor Ernesto Delgado, she says 'He gave me the opportunity to recreate what my Grandmother made – the real foods of México'. She loves collaborating with him on the dishes and the menu – to bring the joy and flavor of México to Mayahuel's guests.
Her dream is to open her own restaurant someday, featuring her Grandmothers cooking. As a truly gifted chef, her motto is 'When you cook, make it with love. The intention is very important'. It's clear she lives by this every day.