My Agave Pick for January Clase Azul Ultra Añejo
---
Every month, I've been sharing a special Agave spirit with you – one I love and think you'll enjoy.
Tequila aficionados love the anticipation of that first taste. We wonder if the spirit will live up to our expectations or – if we're lucky – exceed them. As a Designer, I also love taking the time before that first sip to admire the bottle and label. It heightens my anticipation if they're artistic and pleasing to behold.
First Impressions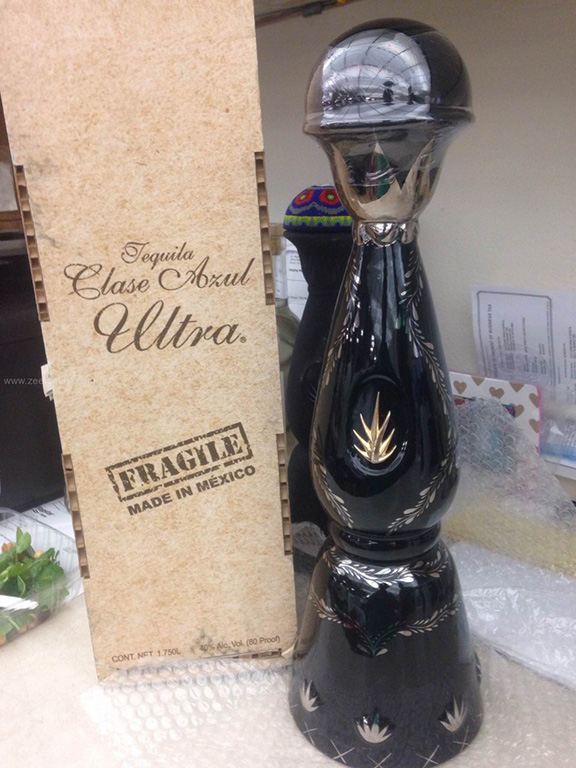 Clase Azul Ultra Añejo comes in a beautiful bottle that hints at the treasure within. Every handmade decanter used for the Ultra takes Clase Azul two full weeks to create.  They are hand-painted with liquid platinum by a talented artisan and have a label made from 24 carat gold. The Clase Azul agave medallion is made from sterling silver.
This bottle is definitely a collector's item – one you'll want to proudly display on your bar.
History of Clase Azul Ultra Añejo
Clase Azul represents the passion of Mexican culture with their products – from the design of the bottles to the Agave spirits within, their goal is to create an appreciation of traditional Mexican art and traditions.
Once the Blue Weber Agave is harvested, it's cooked in traditional brick ovens for 72 hours. It's then fermented, and distilled twice. All Clase Azul Tequilas are produced in the Los Altos Highlands, in the town of Jesús María. Clase Azul ages the Ultra for five years in previously used sherry wood casks from Spain.
My Experience
Pouring this Tequila into a glass is a pleasure of its own. The color is a beautiful dark amber, hinting at the richness and beauty of the Tequila. The body is pure silk.
Aromas of caramel, vanilla, fruit and wood emanate from the glass. I took my time with this, because simply experiencing the aroma was wonderful.
The initial taste was very smooth, as you might expect. Flavor bursts from this Tequila, with a subtle sweetness that is very pleasing, hints of oak and just the right amount of spice.
With subsequent sips, it just got better and better. This is an elegant Tequila – one to take the time to appreciate from beginning to end. Truly more of an experience than simply a drink.
Other reviewers have had similar experiences. "Spectacular" and "Worth every penny!" are comments seen often. It's no surprise.
Foods to try with Clase Azul Ultra Añejo
I tried this Tequila with our Tacos Poblanos de Arrachera and Pipian Verde con Chuleta de Puerco. It was excellent with both. The Ultra doesn't overwhelm the flavorful dishes, but it retains its beautiful flavors throughout the meal. I think it would be great with our Ribeye con Chorizo and any Mole dish as well.
 
Special Offer at Mayahuel
Mayahuel has a very limited quantity of the Clase Azul Ultra Añejo. While it lasts, if you purchase a glass you can order any appetizer, entrée and dessert at no cost. We hope you experience this amazing Tequila at least once – you'll remember it forever.
View our Tequila & Mezcal Club tasting event with Clase Azul!