Dia de los Muertos at Mayahuel
---
Written for Señor Ernesto Delgado
Dia de los Muertos – the Day of the Dead – it's origins trace back hundreds of years to an  indigenous Aztec festival dedicated to the Goddess Mictecacihuatl. In Aztec mythology, the Goddess was the Queen of the Underworld. Her role was to carefully watch over the bones of the dead and preside over the ancient festivals in honor of those who were no longer in the living world.
Prior to Spanish colonization of Mexico, the celebration was held at the beginning of summer. Later, it was moved to the first of November to coincide with the Roman Catholic triduum festival of Allhallowtide, or All Soul's Day. At that time, what emerged was a holiday that melded the two systems of belief – a colonial, formal Catholic honoring of the dead with a wild, pagan celebration of the blurred line between the worlds.
Dia de los Muertos celebrations occur in slightly different forms throughout Mexico. Traditions and activities can vary from town to town, although nearly all involve the wearing of elaborate costumes and masks. Some believe that the departed become part of the living community on this day, awakened from their eternal sleep to share in the celebration.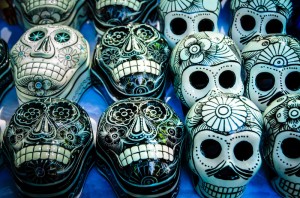 Mayahuel invites those from both worlds to join us for a special celebration on Sunday, November 1st from 8-10 p.m.
Local fashion designer Rory Castillo, in collaboration with Mayahuel, will commemorate Dia de los Muertos with a fashion show and artistic expression which is designed to interpret the spirit of the holiday.  Live music will set the stage for the costumes and revelry. Perhaps even the Goddess Mictecacihuatl will be inspired to visit.
Tickets are $20, seating is limited and is expected to sell out quickly. For more information, contact Rory Castillo at 916-769-8342 or email him at Latinfashion58@gmail.com